Over Easter weekend while we were in Washington D.C. with the grandsons, we went to the National Shrine so I could pray at the feet of the Blessed Mother and light a candle. After I said a prayer and lit that candle, I began walking towards the back of the church when I spotted another Statue of the Blessed Mother . It was known as Mary, Queen of Hearts and the prayer was beautiful and hit very close to home. I stopped and said the prayer and as I lit another candle I found myself begging for her to show mercy. I never asked for mercy before as I always prayed for strength and guidance. Praying to our lady has always brought me comfort. I believe in her intercession with our lord.
Prayer to Our Lady, Queen of all hearts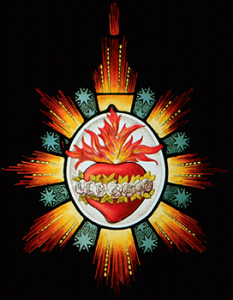 (For use in the home.)
O Mary, Queen of all hearts,Queen of the family,
Queen of the home,
Your heart is the overflowing
treasury of the graces of God;
Your heart is filled with the riches of
The Mysteries of your Son;
Your heart truly believes that
Nothing is impossible with God;
Your heart is the first to receive and welcome
The Lord of all glory into this world;
Your heart receives as children all of those
Redeemed by your Son.
We open our hearts to you.
We open our home to you.We invite you to reign as Queen of our Family.
O Mother so compassionate,
O Queen so generous,
Strengthen, protect and sustain our family
In the goodness of true love;
In the difficulties and struggles of life, be our refuge;
In the joy and goodness of life,
Teach us to rejoice and give thanks to God;
Overcome all that threatens to separate us
And preserve us in unity;
See the hidden and unspoken needs within our hearts
And in your goodness answer them.
O Mary, Queen of all hearts, we trust in you.
O Mary, Queen of all hearts, we hope in you.
O Mary, Queen of all hearts, we love you and we honor you
I did not know the back history of Mary, Queen of Hearts so I began to research it and what I discovered was a beautiful novena that I began to say and will pray for the next nine days asking for healing for everyone involved. The prayer speaks directly to families who are in emotional pain.
NOVENA TO MARY,
QUEEN OF ALL HEARTS
O Mary, Queen of All Hearts,
Advocate of the most hopeless cases;
Mother most pure, most compassionate;
Mother of Divine Love,
full of divine light,
we confide to your care the favors which we ask of you today.

Consider our misery, our tears,
our interior trials and sufferings!
We know that you can help us 
through the merits of your Divine Son, Jesus.
We promise, if our prayers are heard,
to spread your glory, 
by making you known under the title of 
Mary, Queen of the Universe.

Grant, we beseech you,
hear our prayers,
for every day you give us so many proofs of your love
and your power of intercession to heal both body and soul.

We hope against all hope:
Ask Jesus to cure us, pardon us,
and grant us final perseverance.

O Mary, Queen of all Hearts, help us,
we have confidence in you. (3 times)

It is suggested that one go to confession and receive Holy Communion as well as saying the prayer.